Randy Alcorn | October 17, 2014
---
Me encanta esta pintura de mi amigo Ron DiCianni, para el libro que escribimos juntos, Háblame del Cielo. Como los ángeles llevaron a Lázaro al Paraíso en Lucas 16, así el abuelo es transportado a Jesús.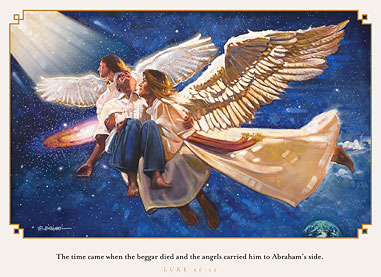 Me gustaría abordar una cuestión que se planteó en un comentario del blog. Me imagino que otros lectores pudieron haber leído la pregunta y pueden estar interesados, ya que me lo han preguntado muchas veces en los últimos años.
La pregunta es, desde un punto de vista bíblico, ¿está bien hablar con nuestros seres queridos que han pasado a estar con Jesús?
En primer lugar, ¿será posible para alguien que esté en el cielo saber lo que está sucediendo en la tierra, y ser capaz de oírnos decir algo? Muchos asumen que la respuesta es no. Pero en Mateo 17, Moisés y Elías claramente ya sabían los eventos que iban a ocurrir cuando aparecieron con Jesús en el monte de la transfiguración. En Lucas 15, Jesús habla de regocijo en la presencia de los ángeles, no por los ángeles, sino en su presencia, cada vez que un pecador se arrepiente, lo que sugiere que el pueblo de Dios en el cielo se regocija por la obra…
---
To read the rest of this article, visit http://www.thegospelcoalition.org/coalicion/article/podemos-o-debemos-hablar-con-nuestros-seres-queridos-en-el-cielo.